What is an aluminium-framed veranda?
Aluminium-framed verandas are open or enclosed structures that provide cover for patio areas and gardens. These are available as free-standing structures or as attached to the building. The primary benefit of these new covered structures is the ability to use outdoor spaces for the majority of the year.
With an aluminium-framed veranda, you'll have a weather-resistant, low-maintenance addition to your house. At The Glass Room Company, we use high-quality aluminium and offer a variety of colours and patterns, as well as a variety of choices and added extras to help you reach your exact specifications and preferences. All of our aluminium-framed verandas come with a ten-year frame warranty.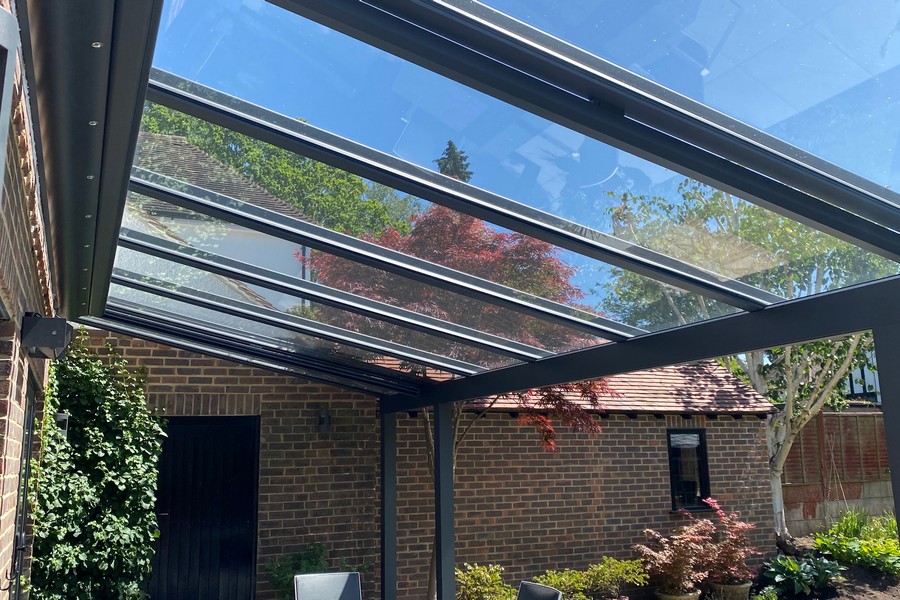 Delivering the exceptional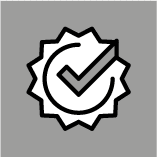 Outstanding service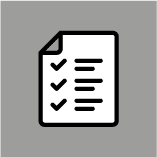 10 Year Guarantee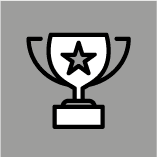 European Based Products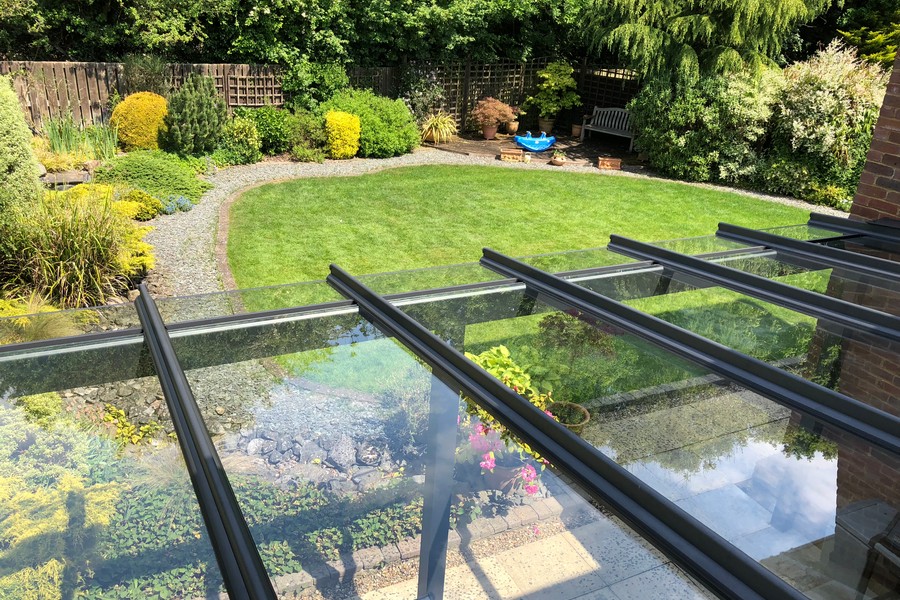 How Long Does it Take to Install a Veranda?
A veranda may be installed in as little as one day. This allows you to enjoy your new veranda as soon as possible. However, the timeframe for veranda installation depends a lot on the size and scope of the project.
A simple job will take up to three days to complete. The longer and more difficult the task is, the longer it may be. If you are looking for a company that will match speed with precision when erecting your aluminium-framed veranda, you are on the right page. Call The Glass Room Company on 0800 009 6245 to talk about your project!
What are the Features of Aluminum Veranda?
Elegant Design
Aluminum-framed verandas are distinguished by their sophisticated and elegant style. In keeping with the traditional country architecture, our verandas are designed to offer simple and timeless elegance.
However, they are also supremely comfortable and versatile and lend a sense of sophistication. The textured finish creates a beautiful, styled look and is the ideal choice for more contemporary homes.
Sturdy Materials
Get the best for your patio aluminium-framed verandas from The Glass Room Company. The material we use is resistant to scratches and tough enough to handle the unpredictable UK weather. Each design uses powder-coated aluminium and features durable polyethene borders that will not rust, chip or fade.
Multiple Colour Options
Variety is what makes life interesting. That's why we offer our aluminium-framed veranda in multiple gorgeous colours, both framed and frameless. With even more ways to customize your look, you don't have to settle for one standard option.
Select from one of our different colours and then mix and match to get the combination that best suits your style.
Invisibly Integrated Drainage
Without compromising aesthetics, our aluminium-framed verandas boast an invisibly integrated drainage so that your home will remain protected from the elements as well as in the optimum living environment.
The invisibly integrated drainage system is practical and convenient, as it discreetly allows excess rainwater to be channelled away from the veranda through a filtered drainage network. You don't have to worry about unsightly puddles all over the place.
Rigid Roof Covering
Our aluminium-framed veranda is a rigid roof covering that provides extra year-round protection to your glazing. It also creates a beautiful, modern look that will enhance any conservatory. Made from high-quality aluminium, it is able to withstand all weather types and is guaranteed for 10 years against discolouration and perforation.
Our aluminium-framed verandas are made from the best quality materials by our craftsmen and are tested and compliant with building regulations. At The Glass Room Company we don't just supply and fit, we also design and create. By sending us a design of your choice our designers will create a bespoke outdoor space to fit your individual needs .
What are the Benefits of Aluminum-Framed Veranda?
It Serves as a Weather Protection
An Aluminum-framed veranda is ideal for preventing water damage to your home. This type of material is known for being invulnerable to the damaging effects of water, harsh winter temperatures, and other elements.
Aluminum-framed veranda provides a weather barrier that is maintenance-free. This polymeric rain sealant protects the surface area of aluminium from water intrusion and keeps moisture out while helping maintain the original look and feel of your structure.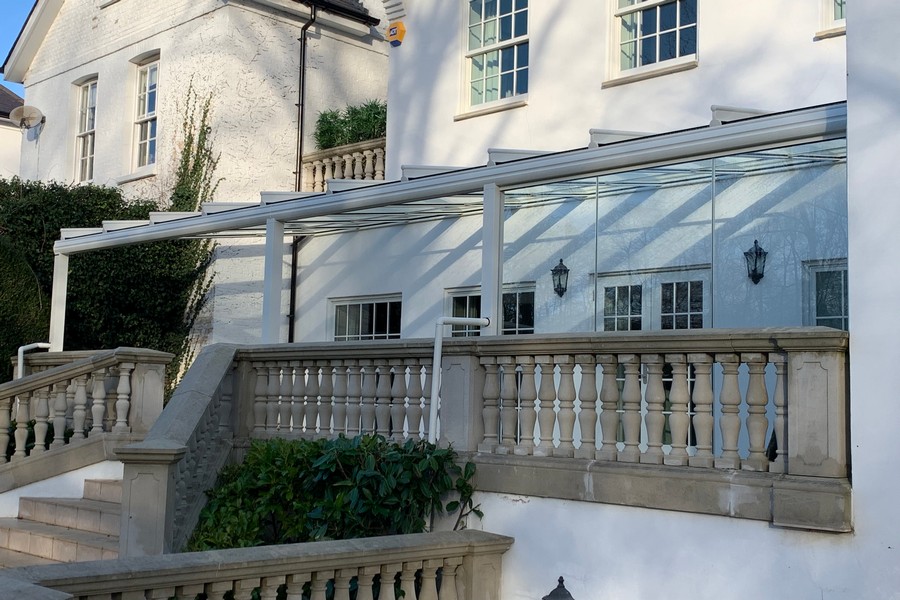 Improves the Aesthetics of your Property
An aluminium-framed veranda is one of the most stylish and attractive additions to any home. The variety of colours, textures and styles of materials available today allow homeowners to express their own unique sense of style with an aluminium-framed veranda.
The addition of an aluminium-framed veranda to your property can provide you with the creative freedom to design a customised accent in an area where you can fully enjoy the natural beauty that your property or lot already provides.
High Durability
With an aluminium-framed veranda, you can expect to get a product that boasts superior durability and longevity.
Aluminium is a versatile material used for a veranda. It is strong and durable, requires minimal regular maintenance, and will never fall victim to the elements like wood or composite materials. You get all of the benefits of a traditional veranda with none of the drawbacks.
Extends Your Living Space
Adding a veranda to your existing home will extend your living space and add value to your home.
These bespoke verandas provide the perfect solution for opening up your home and extending your living space. Our large variety lets you choose what best fits the look of your home and front, side or back garden. Whether you want a small area for sitting or a whole deck attached to your house, we have a veranda that will work for you.
Serves as a Roof Over Your Patio
Add a roof over your patio or porch with the aluminium-framed veranda roof system by The Glass Room Company. Our aluminium-framed veranda roofs are constructed to allow you to enjoy your patio even when it rains. It's the ideal solution for homeowners in rainy areas who want to enjoy their patio with their family.  We offer tailor-made verandas meaning that you can design a veranda to suit your house. Whether you're planning to have an aluminium-framed veranda for one section of your house or for a whole extension, we can offer our expert services to guide and help create your ideas into reality.
Step One: Consultation
We believe that the first step to getting the look you want is to have a consultation with one of our experts. At the consultations, we will meet with you in your current living area, take measurements of the space, ask you about the desired style, and more. At this time you have no obligation to purchase anything or make a deposit.
Step Two: Design
We'll then send you a 3D visualisation of your new extension prior to construction, so that you can make sure it's the exact design you were hoping for. We'll then provide you with our final quote once we have your approval.
Step Three: Delivery
Once your order has been processed, you will be assigned a veranda specialist, who will coordinate delivery and installation with you. In most cases, once we have determined that the project is ready to proceed, our specialist will deliver materials directly to your area on an agreed-upon date.
Who We Are
The Glass Room Company is an award-winning, family owned and operated business that has been creating luxurious outdoor living spaces for years. Our team of experienced and dedicated professionals is committed to providing superior craftsmanship from start to finish in every project we undertake.
The Glass Room Company is your one-stop shop to build a patio, add glass enclosures, or completely transform your living space into an outdoor environment. Our goal is to convert your current outdoor space into a place you want to spend more time at. To do this, we offer an all inclusive design and installation service.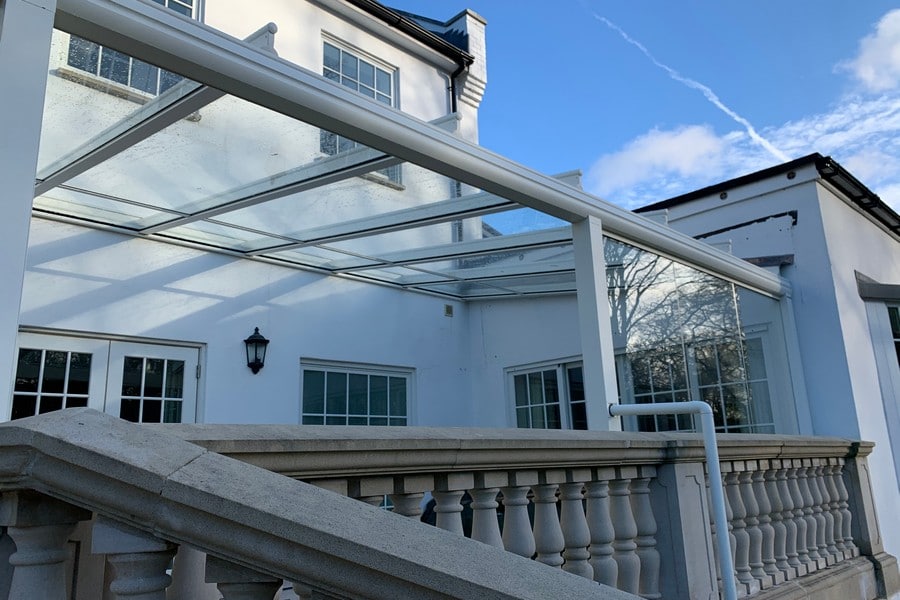 Berkshire, Buckinghamshire, Cambridgeshire, Essex, London, Hampshire, Hertfordshire, Kent, Northamptonshire, Oxfordshire, Surrey, and Sussex are among the counties where our experts are available to work.We can manage every aspect of the project from start to finish with one expert crew. We also take the extra time to consult with you during every step of the process so that you end up with an outdoor room that is uniquely yours. Call us on 0800 009 6245 to learn more on how we can help you.
Why Choose The Glass Room Company?
Years of Experience
Our aluminium-framed veranda company is experienced, trusted and built from years of manufacturing knowledge and expertise. We know you want to enjoy a veranda that withstands wind and rain and looks great, and we have what it takes to deliver exactly what you want.
Customised aluminium-framed veranda

Our aluminium-framed veranda system allows you to get the luxury and beauty of a wood veranda roof without any of the hassles of maintenance or pitfalls of other materials.
With our aluminium-framed veranda roof, you can enjoy the great outdoors in the comfort of your living room. Customised to fit the detailed size of your home, our veranda roof will give you a beautiful view of the stars through your living room. Our roof easily attaches to your home while complementing its architectural design.
10 Year Guarantee
The Glass Room Company is proud to provide homeowners with aluminium-framed veranda installations that will give them value for their money. We offer a ten-year guarantee on all our aluminium-framed veranda frames from the date of installation, and in the unlikely event of any problems, we will replace and reinstall your veranda free of charge.
Our industry-leading ten-year installation guarantee ensures that your investment in an aluminium-framed veranda will be well protected.
Premium Products
The Glass Room Company aluminium-framed verandas are more than just a veranda. They create a multi-purpose space that adds to the value of your property and increases the quality of life for your family and friends.
Our aluminium-framed verandas are custom designed and constructed of premium materials. They feature high-tech aluminium frames that will keep your outdoor area cool in the summer and warm in the winter. All of our products are created with an emphasis on comfort, technology, and style.
Outstanding service
We are committed to providing an outstanding service from the initial planning stage, to after installation. We listen to you and speak through every aspect of your image to provide a bespoke design tailored to suit you.
With our help you will create a beautiful and practical outdoor, one that complements your lifestyle and accommodates the needs of both you and your family. We believe in offering advice and service to suit whatever style you choose for your home, whether it is contemporary, traditional or somewhere in between.
No hidden charges
The Glass Room Company products are made for the ultimate affordable outdoor enjoyment. No surprise service fees, no hidden upgrades, just a great product at a great price with consistent quality.
Are you ready to restore your outdoor space inLondon? Permit us to work with you in order to create the space of your dreams. Call us on 0800 009 6245.
Request for a Free-Quote
The Glass Room Company offers free quotes. Our aluminium-framed verandas are extremely energy efficient and offer a beautiful way to enjoy the outdoors.  Making your home more comfortable and increasing the value of your property. Request today! Request a free, no-obligation quote for a customised aluminium-framed veranda today.
FAQs
Does a veranda add value?
A veranda adds value to a home in ways many people might not realise. In fact, should you decide to sell your house later in the future, the attached aluminium veranda can be the deciding factor in whether you get a good offer on your property or not.
What's the difference between a veranda and a balcony?
A veranda may connect to the house on two or three sides; a balcony faces out over an open space and is attached to only one side of the building's upper floor.
Is planning permission required for a glass veranda?
For further clarification on whether your veranda can be installed without planning consent, please consult your local authority planning office.
How much does a glass veranda cost?
The price of verandas starts at £7,000.00 and goes up from there. That's just the base cost. Every veranda is custom-built, making a fixed cost impossible.