Each veranda in our range of glass verandas with sides at the Glassroom Company adds real value to your home while adding a touch of style. We have glass verandas with lots of features and options so you can add extra space to your home and make the most of an unused area.
Our glass veranda with sides are designed to create light, space and privacy with ease. They are available in a wide range of shapes, sizes and colours and can withstand the UK weather conditions – making them the perfect choice whether you want a beautiful glass-roofed front or back garden area or an extension to your main living space.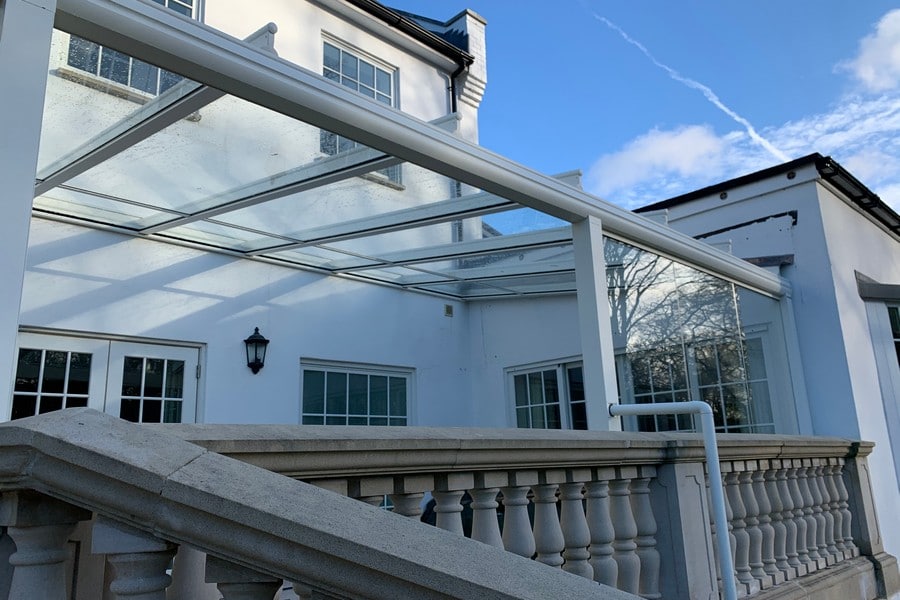 Delivering the exceptional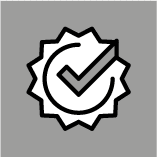 Outstanding service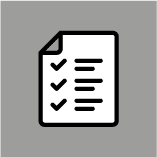 10 Year Guarantee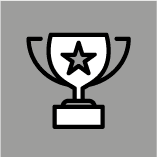 European Based Products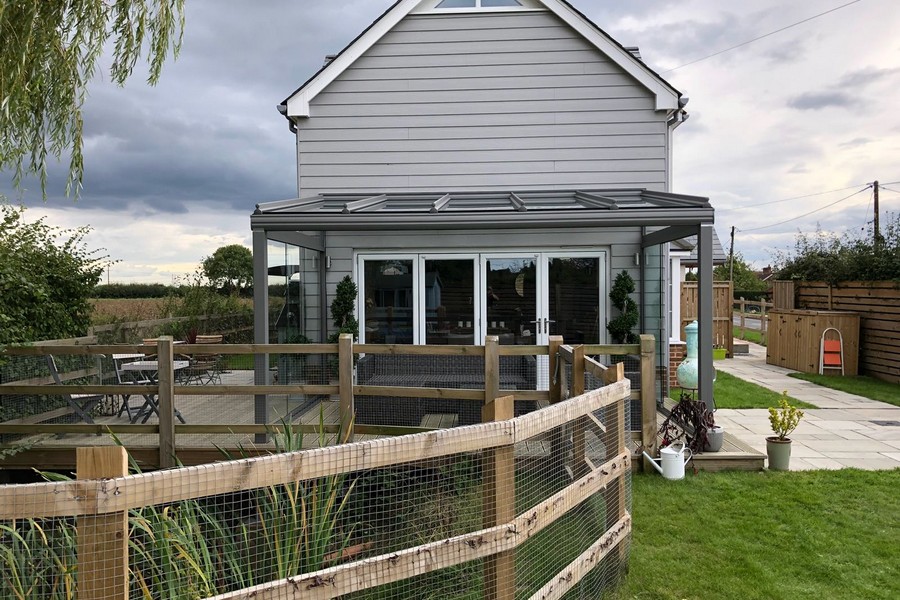 What are Glass Verandas with Sides?
A glass-sided veranda is a combination of an open glass veranda and a closed room. This means that there is a solid roof and glass sides providing protection from the weather. This configuration may also have glass windows and doors, which provide excellent access and ventilation functionality.
Sturdy powder-coated aluminium framing and tempered glass give you the structure of a traditional room yet the airiness of a space dedicated to the outdoors.
Imagine your own fully-furnished, climate-controlled getaway looking over your front or back garden; heated in winter and shaded by a screen so that you can enjoy your outdoor space all day, every day.
Glass verandas with sides are a unique and innovative take on the traditional veranda concept. They allow you to enjoy your sunroom year-round. They provide excellent sun protection from the harmful UV rays of the sun, but also allow plenty of sunlight to enter through the all-glass walls and roof.
During the summer months, these rooms can serve as a beautiful outdoor room where you can remove or retract the glass sides, kick back and relax in comfort while enjoying good weather and fresh air. During the colder months you can escape for some outside/inside living. Think stylish, sophisticated, functional and full of possibilities.
What Are the Advantages of a Glass Veranda?
With the increased popularity of open plan living over more traditional family homes, many people find they want some space without compromising on the outside outlook. A glass veranda has a range of other features and benefits, from an unrestricted view of the front or back garden to the feeling of extra space outside. Read on to find out how much more you could benefit from a glass veranda with sides.
An elegant outdoor room
A glass veranda with sides is an instant outdoor room – perfect for entertaining or relaxation! Our glass veranda with sides is installed in hours over your existing deck, patio, garden or even poolside. Made from high-quality, heat-treated glass panels, our verandas provide maximum light and views while adding comfort and protection from the weather.
Fun and relaxation
Our glass veranda with sides is the ultimate open-air experience. It's perfect for entertaining and enjoys year-round use. Imagine a veranda with three or four sides of glass: you can now truly appreciate your front or back garden and enjoy scenic views from all angles.
Beauty and aesthetics
Whether building a new home or adding onto an existing structure, the Glassroom Company brings you the beauty and aesthetics of a seamless glass veranda with sides. Using tempered glass panels, an experienced team of professionals can deliver a custom plan and build-out to your specifications.
Enhances the value of your home
Enclosed Verandas are an effective and economical way of adding value to your property with a minimum amount of construction. They can provide you with extra living space and create a tranquil environment away from the outside world in your home or garden.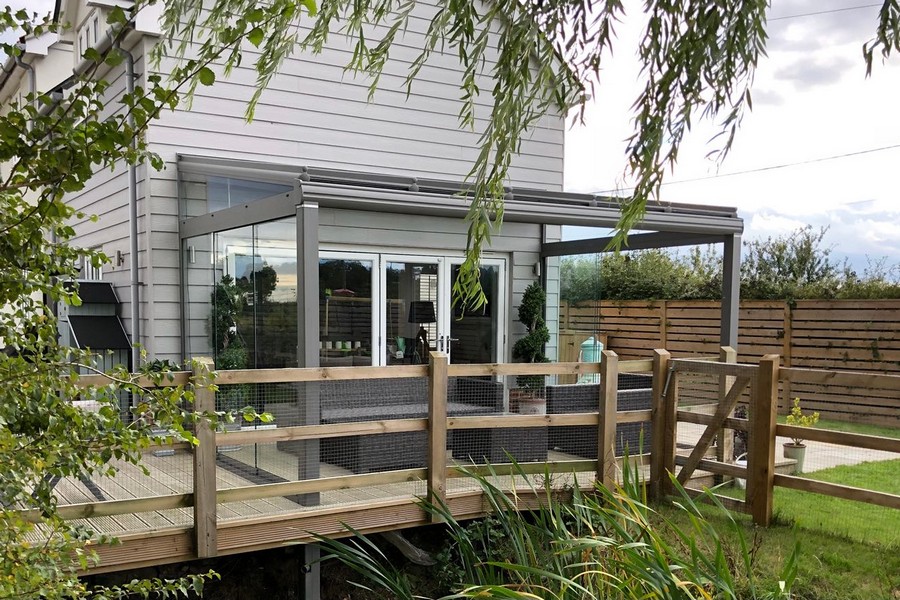 Enclosed Veranda Experts Close to You
The Glassroom Company has been building glass verandas for more than 15 years. We have built many different styles and designs and can advise you on how to work with your existing window areas and openings, to create the design that will best suit you, and the feel you want for your home, from simple elegance to a more contemporary look.
A glass veranda will never go out of style. Built-in with sides, it can also become an extension of your living room, dining room or kitchen area bringing the front garden inside. It creates a roomy relaxation spot that enhances and invites hours of entertaining.  Ready to get started? Request a free site survey using the form below.
Why Do Customers Choose Glass Verandas With Sides from The Glassroom Company?
The design is elegant.
The Glassroom Company designs beautiful, elegant, and affordable prefabricated glass verandas with sides that turn your veranda into a sanctuary. Our glass veranda will create a permanent gateway between nature and your home while providing the ultimate shaded relaxation spot.
Solid sides and roofing material
The Glassroom Company builds solid sides and roof material on all of our glass verandas. This means that our verandas with sides have a real roof and side walls made from high-quality laminated safety glass (LSG), not just a metal rod with some material attached to it.
Constructed from solid aluminium
The special hard-wearing powder-coat finish of the aluminium frame makes the glass verandas from Glassroom Company virtually weather-proof and totally maintenance-free.
Unlike traditional wooden verandas, no annual painting or staining is needed due to the inert aluminium frames. There are no soft spots and rot is not an issue with aluminium frames, so design longevity is maximised.
Clear or tinted glass
A clear glass veranda with sides from the Glassroom Company will let in the daylight and keep out the weather. If you are interested in something different, you can make your choice from dark tinted glass or glass with a blue-green tint, or a green tint with an all-glass feel, you can get exactly what you'd like.
Hidden drainage systems
The Glassroom Company has developed a drainage system specifically designed for the walls and base of our glass verandas with sides. The hidden drainage system means that rainwater does not pool at the base of the veranda wall or on the floor of your home.
Integrated LED lighting
The Glassroom Company's glass veranda enclosures are now available in a version that includes built-in LED lighting to illuminate your space. You can use these LED lights at night to light up your space or just to give your home that exotic look.
Our Enclosed Verandas will prove themselves to be the most attractive extension to your home, providing you with a light and bright addition as well as a stylish and safe room that can be used as a lounge, an office or extra accommodation for guests.
Why not request a quote using the form below to get started.
Custom Glass Veranda Types from the Glassroom Company
Our custom glass verandas offer elegance and beauty with a range of designs and options to choose from. Made in the UK using high-quality materials manufactured in Europe, they're ideal for both residential and commercial projects.
Terrazza Pure
The Terrazza Pure was designed to take full advantage of the natural elements that are all around. The elegant glass lets in glorious amounts of sunlight while the beautiful view outside adds to the experience.
Terrazza Sempra
The Terrazza Sempra Glazing System is a combination of high tech and nature at its very best. The top of the roof is shaped like an umbrella offering a generous amount of endless natural light flooding in through two glass panes, making your day a lot brighter. The lower part curved divider facing the veranda structure offers some privacy while also extending the space's area.
Terrazza Originale
This veranda is unique from all others in that the roof, ceiling, and sidewall are all made of glazed glass. With no studded or exposed frames, you can look into your heart's delight through floor to ceiling transparency—what could be more heavenly?
What Makes the Glassroom Company A Smart Choice for My Glass Veranda With Sides in South East England?
Our attention to detail, effortless organisation and priority for the customer makes us one of the leading glass veranda with side makers and installers in South East England.
Design and installation services from start to finish.
If you are thinking about building a glass veranda with sides, then please call The Glassroom Company. As leading specialists for over 15 years, we can 100% design and install your veranda to be exactly the right size and shape for your home.
A professional service with the highest quality veranda products at a great price.
With decades of combined experience and hundreds of installs in the UK, the Glassroom Company is one of the southeast's leading installers of enclosed glass verandas. We pride ourselves on providing a high-quality professional service at a great price.
Credibility and reputation in the industry
The Glassroom Company has built up over two decades a reputation for excellence and credibility in the industry. Our glass verandas are custom made using only the best materials and workmanship.
Choose from a variety of enclosed glass veranda with product examples
Our veranda can be fully customised- you choose the shape and height of your veranda; the finishing on the framing, supports, and columns; the trim around the bottom edge; and even the doors/windows.
Our highly qualified in-house installation team is experienced and certified.
You can rely on our well trained, certified and experienced team to create a unique glass veranda that's perfect for your home.
From assisting you in the initial design process, drawing up plans, ordering the glass and fitting the sides, we do it all – throughoutSouth East England, including Surrey, Kent, East Sussex, West Sussex, Hampshire, Berkshire, Greater London and neighbouring counties.
Excellent customer support
We offer one of the best customer support programmes in the industry. We will always be there for you so that you get the most out of your glass veranda with sides.
Peace of mind and 100% customer satisfaction.
The Glass Room Company offers exceptional quality and service while taking care of your project from beginning to end. Our experienced team ensures that the job is done safely, correctly, on time. You can have the peace of mind that you are working with an experienced company that knows what they are doing.
Request a Quote
Our expert team of glass specialists will work with you to ensure that your new glass room is a combination of beauty, safety and practicality. We can offer a free initial consultation by appointment at your home and we will be pleased to give you an estimate for our installation in South East England.
All this and more is why people choose The Glassroom Company when it comes to installing extra glass spaces in their home. We provide a complete design and installation service, from initial consultation to planning approval applications (where applicable), and subsequent installation of the finished product. Request a quote today to get started.
Get in touch with the Glassroom Company by calling us FREE on 0800 009 6245. You can also request a call back for expert advice and recommendations for your new outdoor living area.
FAQs
Is planning permission required for a glass veranda in the UK?
Glass veranda with sides may require planning permission. It is a good idea to get in touch with your local council to find out what is needed before embarking on any modification to your property. If planning permission is needed to erect an enclosed glass veranda, The Glass Room Company may be able to help with the process.
Do glass verandas with sides require any maintenance?
Yes they do. It is recommended that a routine cleaning be done by using a solution of water and vinegar, or a mild household cleaner can be used for the glass.
How much does a glass veranda with sides from the Glassroom Company cost and when can it be delivered?
Our enclosed glass verandas are custom products, which means they are built to fit each individual project. This means we cannot give a specific cost until we have surveyed your site and get more information about your project. To request a free site survey, please use the form below to get in touch with us.
What is the lifespan of a glass veranda with sides from the Glassroom Company?
The average lifespan of our glass room products is approximately 20 years. The amount of sunlight, ultraviolet and infrared energy that strikes the glass veranda unit will have a direct impact on its expected lifetime. We use Energy Star qualified windows, which are constructed with additional layers of laminate glass and thicker slides that further protect the unit from solar radiation degradation.
What are the benefits of a glass veranda with sides?
A glass veranda with sides is a very cost-effective way to add A LOT of extra space to your house. An enclosed glass veranda is essentially a large glass wall, or possibly several walls, enclosing an existing porch (or parts of an existing porch) to give you and your family a huge new living space. Imagine having a great view of the outside, while still being inside your home.