Glass Veranda Experts Serving the Whole of The UK
At The Glass Room Company, we're a leading provider of cutting-edge glass verandas that are designed with you in mind. We offer design and manufacture services as well as installation; so no matter what you need, and no matter where you are in the country, our team is here to help!
We reinvent outdoor living, with glass verandas that are larger than life and fitted with our super-strong tops and rails made from aluminum, a robust material that can withstand the elements.
To learn more about how we can bring your outdoor designs to life, contact us today by calling 0800 009 6245.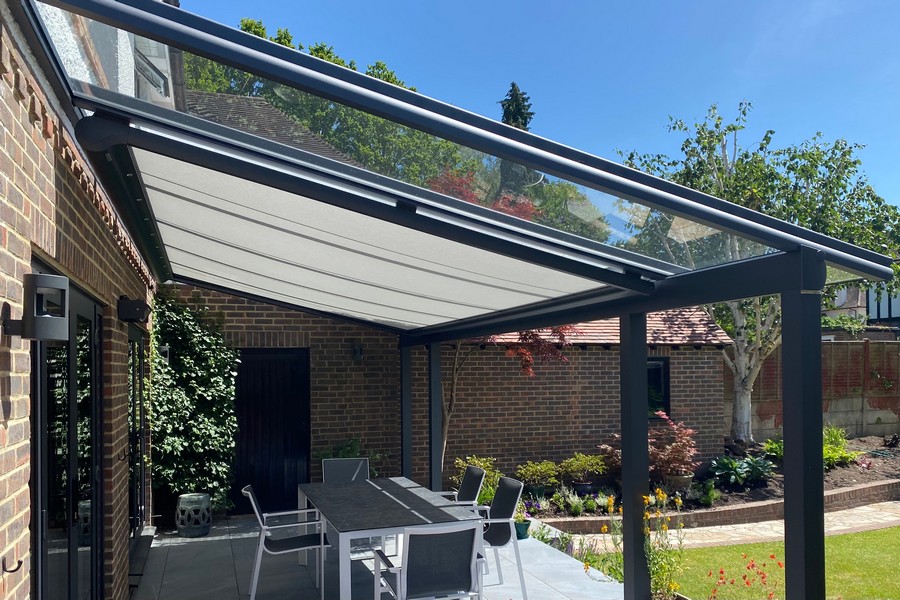 Delivering the exceptional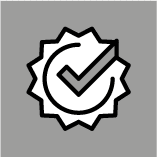 Outstanding service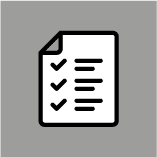 10 Year Guarantee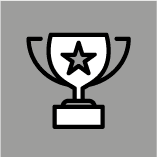 European Based Products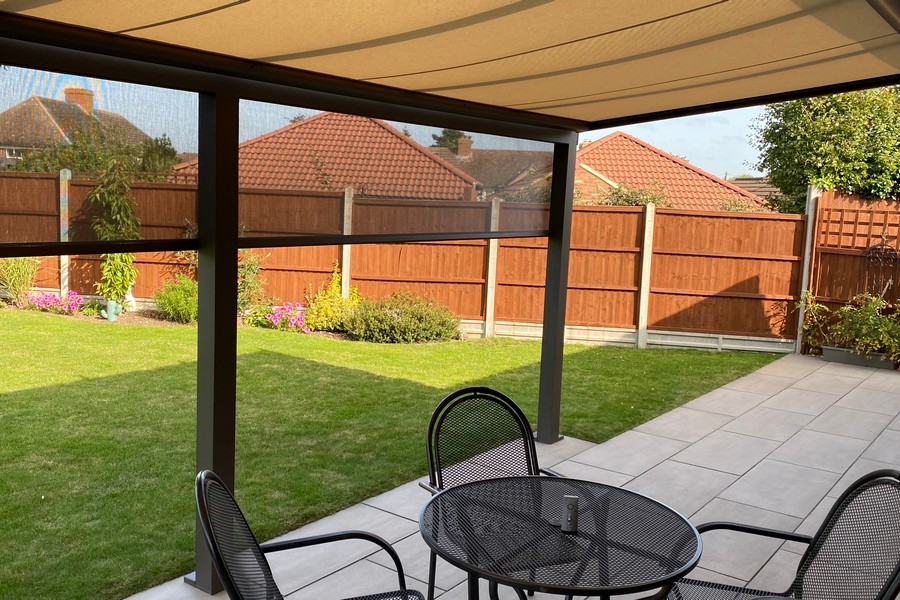 Why Your Property Needs A Veranda
A veranda can be a great addition to any home. It provides a space that is both functional and beautiful. Verandas are often used for entertaining guests, but they also provide an excellent exterior living space. A veranda allows you to enjoy the outdoors without having to brave the elements. With this in mind, it's no wonder why many homeowners are turning to verandas as part of their renovation plans!
The Glass Room Company can make the most of your space and transform your outdoor area into a beautiful, all-year-round living space. All glass verandas can be designed and tailored to suit your house and garden. And it's not just the design that's important, you'll also have the reassurance that your veranda is built to last: with strengthened corners our company uses high-quality glass and the highest quality fittings. Add a stylish new outdoor living experience to your home, so that when you need somewhere to relax, unwind and entertain friends, the glass veranda can become the center of your home.
Features of our Glass Verandas
Our glass verandas are the culmination of decades of experience and innovative design. We're a company who provides custom outdoor living structures for your home. Our verandas are available in dozens of bespoke design combinations to suit your individual needs and tastes, using only the highest-quality materials with skilled installers.
The modern design of our aluminium framed verandas creates a beautiful surrounding in which you can relax and have your morning coffee. Our verandas feature integrated lighting for nighttime use, a fully integrated drainage system, and can have heating and cooling systems in place. Our verandas add a unique touch to any home. With our wide array of colour options which are available on request, we can match your home or business and add an element of luxury.
Plus, we offer 3D visualisation to help you truly understand what these additions will look like in your space. Need more information? Request our brochure here.
Why The Glass Room Company is your Best Choice for Quality Verandas Nationwide
Looking for the perfect way to make your home stand out in a crowded neighborhood? A glass veranda is an excellent option. The Glass Room Company has years of experience designing and installing these luxury additions. Plus, all our materials are from renowned German manufacturers with years of industry expertise.
No other company will bring you as much value or quality as we can! We promise to deliver:
Great Customer Service And All-round Support
For over 15 years, the Glass Room Company has built a reputation for high-quality products and services. All of our aluminium framed verandas are designed in our workshop and assembled on your property. This means that we can offer complete control over the quality of the final product.
Since our conception, we have installed hundreds of glass verandas with a very high customer satisfaction rating. Talk to us today about creating your dream outdoor space!
Skilled And Trusted Professionals
With a big team of fully trained professionals with over 150 years of combined craftsmanship experience, we are ideally equipped to handle all your glass veranda and outdoor living requirements.
From full-scale renovations to replacements and new installations, we deliver only the highest quality products with a number of designs to choose from.
Our experience ensures we'll get it the right the first time, every time, whilst our free property survey will put your mind at rest.
Our business is based on customer service and our number one priority is to help support you in your project. The Glass Room Company was set up because we strongly believe in giving customers great service and quality outdoor living products.
Our business is based on customer service and our number one priority is to help support you in your garden project. We fit out semi detached houses, detached houses and even commercial office buildingd. Our extensive experience allows us to offer friendly advice as well as a free property survey. The Glass Room Company was set up because we strongly believe in giving customers great service and quality outdoor living products.
Lasting and Durable
Our glass verandas are an invaluable indulgence for any space in the home. Crafted from high-quality powder-coated aluminum, and including a 10-year guarantee, they're built to last and guaranteed to provide years of all-weather protection.
Whether you're looking for protection from the sun, or simply want an extension of your living space with a stylish glass ceiling, we have a design for you.
Choose from our bespoke designs, or work with our design team to transform your own sketches into a stunning reality.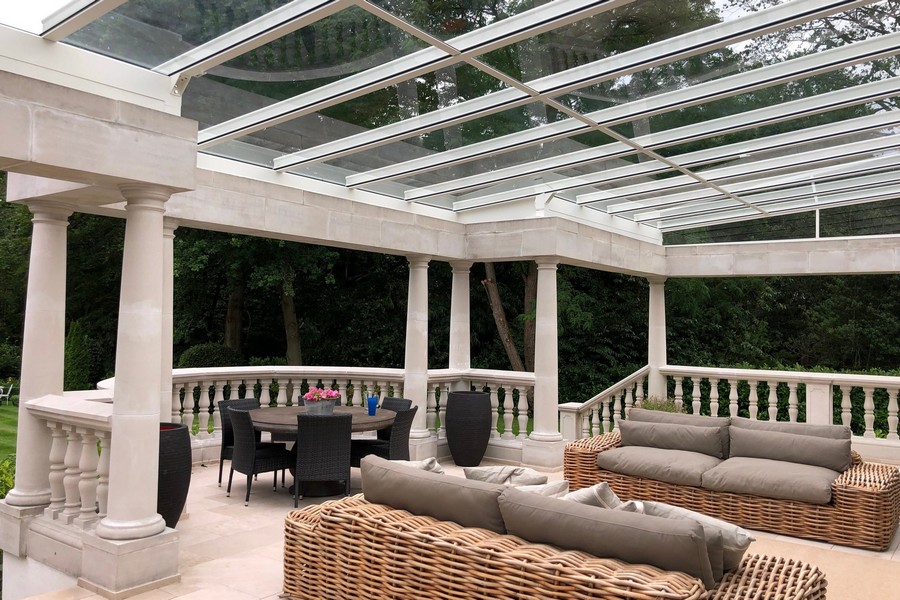 Built for the British Weather
Our beautifully designed glass rooms are crafted from UV stabilized polycarbonate, and built to last a lifetime. These are all-weather solutions, built and tested in Britain to offer year-round protection from the elements or inclement weather conditions.
They also boast integrated drainage systems to ensure that they're protected from the elements and offer maximum usability.
Our glass verandas have received many accolades over the years for their longevity and experimental approach; these verandas are suitable for gardens, barns, stables, flats, and more.
Powder-coated Aluminium Frame
Our glass verandas are a unique way to make the most of your garden. The solid aluminum frame provides outstanding support, and our toughened glass panels provide magnificent views of the outside world.
With our high-quality powder coated aluminum construction we are able to offer comfort, luminosity and warmth in every one of our creations without compromising on style.
High-quality Materials
Our veranda is a great addition to your existing structure. The sturdy powder-coated aluminum construction ensures the long-lasting benefits of using our veranda.
The durable and UV-resistant glass makes sure that you can enjoy the outdoors without worrying about fading.
With our own exclusive features and high-quality materials, the Glass Room Company will help create a high-quality veranda product for your home.
Integrated Heating And Lighting
When you think about the perfect outdoor space, we bet most of you envision a veranda. A place where you can relax and enjoy a drink while looking out onto your garden. And at The Glass Room Company, we want to make that vision come true for all of our homeowners!
Our glass veranda comes with integrated heating and lighting features so no matter what time of year it is, you'll be able to enjoy your new porch area.
Easy Conversion Into a Full Glass Room
Our glass veranda is built for both comfort and style. Beautifully modern, this unique glass structure has everything you need to create an extra space that's full of comfort and light.
It can even be easily converted into a fully enclosed glass room should the need ever arise for an enclosed space. This extra space can be used all year round, making it perfect for creating an all-weather outdoor living experience.
Reliable Customer Support
We pride ourselves on impeccable customer service and, as well as providing a full and comprehensive installation service, we will provide you with ongoing support after installation too. When you order a glass room company veranda, you can enjoy stunning benefits that last for years. Glass Room Company offers many different designs to make sure the perfect addition is made for your home.
Give us a call on 0800 009 6245 to discuss the veranda style you are looking at.
Why You Should Hire Experts For Veranda Installation?
The installation of a veranda is not something that you can just take on yourself. The reason for this is because the process involves many different steps, and if done improperly, it could negatively impact your home. That's why we recommend hiring qualified professionals to handle the job for you. They'll be able to do it right the first time so that your investment will be protected and won't need any future repairs or replacements.
At The Glass Room Company, we design and install bespoke glass verandas guaranteed to fit your home and meet your requirements. Our products allow you to enjoy your outside space during all four seasons. Take advantage of our Installation Guarantee which is designed to eliminate any worry about problems that may occur after installation. Our fully trained staff take great pride in offering great customer service, from the initial site survey to the final installation and aftercare.
With a dedicated team of glass experts on site, you can be sure of veranda solutions that will serve the purpose for which you are installing, as well as stand the test of time. Get in touch today to learn more about our services and how we can help install your glass veranda!
Take Advantage Of Our Nationwide Service
Glass verandas are becoming increasingly popular in the UK. Whether you want to enjoy a cup of tea on your front porch or garden or just need some extra space, we can help! Our team is dedicated to installing glass verandas and there's no job too big for us.
At The Glass Room Company, we strive to provide our customers with the best possible service. We offer nationwide installation services for verandas – no matter where you live in the United Kingdom, we can put a beautiful new porch on your home.
Let us know if you're interested in finding out more about what a glass veranda could do for your home and we'll get back to you as soon as possible! Call us today and let us show you how easy it is!
Give Your Home A New Look
Is your house feeling a little too small and outdated? Is the lack of natural light making you feel claustrophobic?
If so, then it might be time for an upgrade. The Glass Room Company offers glass verandas that will not only give your home more space but also allow in lots of sunlight. With features like heat-resistant windows and environmentally friendly materials, this company is one to watch!
Our products are designed and installed by trained professionals to ensure that your budget is well spent. We always use only the best, highest quality materials in order to guarantee long-lasting durability and the quality of our verandas. Do you want to learn more about the benefits of choosing a glass veranda by The Glass Room Company? Or do you like what you have read so far and what to transform your home with a glass veranda?
If your answers are yes, simply get in touch with us using the feedback form provided. We look forward to hearing from you.
FAQs
Which areas are your services available in?
For over 15 years, we have redefined the boundaries of outdoor living by offering the most innovative luxury glass verandas available in the UK. We are at the forefront of design and innovation, and your experience with us will be second to none - we take pride in our exceptional customer service. Our unique experience allows us to work with you to create a bespoke design, exactly how you imagine it. We know that owning a glass room is a significant investment and we want to make sure that you get the most out of your new living space. We offer a complete service, from initial consultation to the installation of your new veranda throughout South East England including the following regions: Berkshire, Cambridgeshire, London, Hertfordshire, Northamptonshire, Surrey, Buckinghamshire, Essex, Hampshire, Kent, Oxfordshire, Sussex, and their surrounding areas. We can work nationwide through our partners. For inquiries about our services and how we can make your outdoor living dreams a wonderful reality, give us a call on
0800 009 6245
. You can also fill the form our forms to book a free site survey, request a free brochure, or request that we call you back.
What is the cost or price of installing a veranda?
Because every veranda we create is specifically tailored to meet the needs of the client, it is impossible to estimate the price without first conducting some on-site survey. In order to help us develop a quote that meets your specific needs, our skilled and certified surveyor will visit your property to review the specifications and take the necessary measurements. Our site survey is completely free and non-obligatory and serves to provide us with the necessary information needed to start a design on your veranda and see it through completion.
How long will the veranda last?
With all that the outdoor living experience has to offer, and the investment you make, you want to know the veranda is durable and long lasting. We have seen many verandas from other companies where the framework lets them down resulting in an area that was once inviting now looking dated and tatty. The combination of glass and aluminum support structures makes our verandas some of the strongest and most durable veranda structures in the market. The ten-year limited framework guarantee reassures you that we stand behind our product.