What Is a Glass-Covered Patio Veranda?
A glass-covered patio veranda is a roofed extension over your patio. It's a peaceful outdoor living area that provides protection from sun and rain.
Our beautiful glass-covered patio verandas offer a luxurious leisure area year-round without sacrificing any of the features you've come to expect. Normally located conveniently off your back door, they are an extension of your home and boast some of the features of a pergola.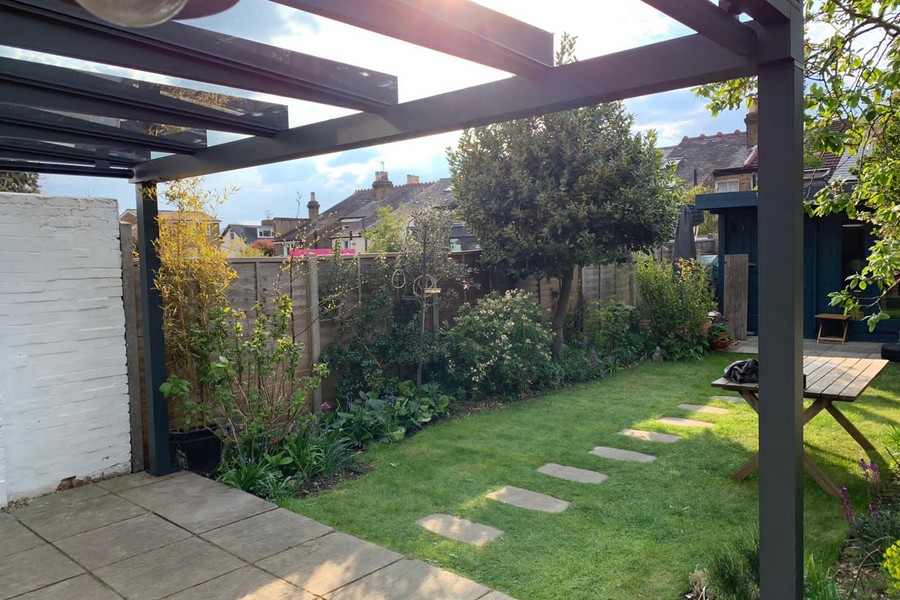 Delivering the exceptional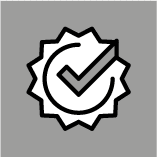 Outstanding service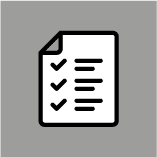 10 Year Guarantee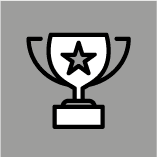 European Based Products
Why Do I Need a Glass-Covered Patio Veranda?
A glass-covered patio veranda provides an enhanced patio area that runs parallel to your house, giving you and your family more ability to enjoy the outdoors throughout the year. The following are some other benefits of installing a veranda:
Extra usable space
The glass-covered patio veranda creates additional usable space for your home. It serves as a great place to put your feet up, keep dry from the rain, enjoy the sun, and can even be used as a children's play area. A veranda can provide space for everyone.
Entertainment
A glass-covered patio veranda is an ultimate solution for adding living space to your home that's casual, comfortable and convenient. Perfect for al fresco dining, entertaining, relaxing or even sleeping under the stars, this custom extension can become an outdoor living area that gets used all the time.
Aesthetics
A veranda adds life to your house. The veranda aesthetic enhances the look of your house and makes it more appealing. A veranda can raise the tone of a garden significantly without affecting the facade of your property.
Adding value to the home
One of the most obvious reasons to install a veranda is to increase the value of your home. Verandas open up the living space at your home. It makes any property more desirable and valuable compared to other properties on the street.
Space
A glass-covered patio veranda is a perfect addition to your home. It will help transform your old, dated outdoor patio into an inviting and convenient space that's perfect for you and your family to use. It is almost like having an extra room outside, roofed to protect you from rain, sun or snow!
What Makes Glass-Covered Patio Verandas from the Glassroom Company Different?
A stylish design
Each glass-covered patio veranda is designed using only the finest materials available The excellent manufacturing standards guarantee that your system will be durable and require little regular cleaning and no painting.
Tinted or clear glass
Modern glass-covered patio verandas are aesthetically pleasing and versatile as they come in a range of different colours, textures and patterns for you to choose from. Multiple glass options include clear glass that allows natural light to pass freely into your space or tinted glass to limit the direct rays of the sun.
Glass roofing in various configurations
To deliver the perfect product to our clients, our glass-covered patio veranda glass roofings are flexible and can be custom-designed to fit a wide variety of shapes including trapezoid and curved shapes.
Invisible drainage systems
Thanks to an exclusive system of drainage outlets that run the length inside each post, rainwater easily runs off so that there is no ugly puddle around your home.
Built-in LED lighting
Gardeners and patio enthusiasts love our glass-covered patio verandas because they come with LED lights that will illuminate the exterior of your property, providing both beauty and security.
Custom roof sculpting
Our glass-covered patio verandas are custom-designed to blend in seamlessly with your home to complement the architecture. We always design our verandas with structural reinforcement to make them as solid and stable as your house.
As you can see, there are dozens of exciting features to enjoy when you opt for our glass-covered patio verandas. Get started today by requesting a free site survey.  Call 0800 009 6245.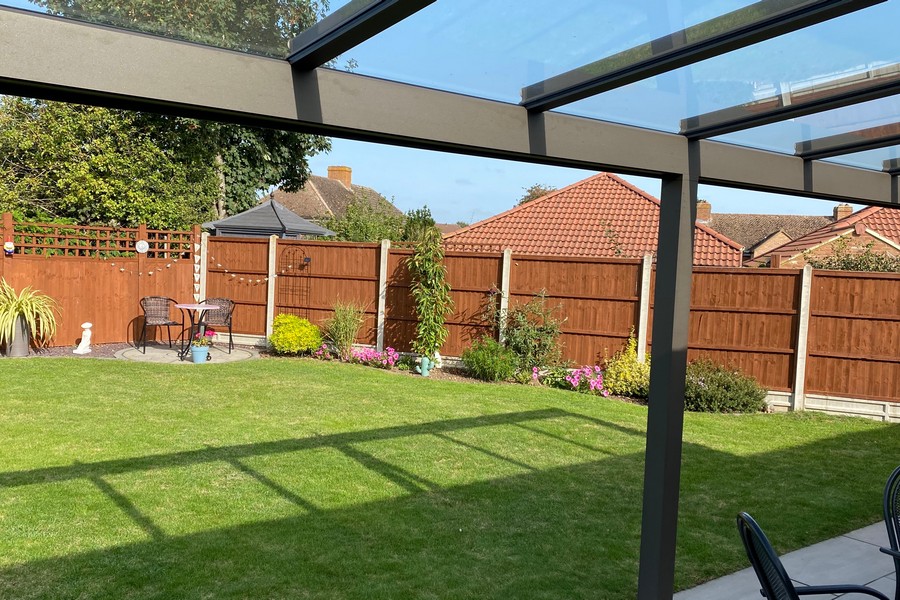 Bespoke Glass-Covered Patio Verandas Types from the Glassroom Company
The stylish, timeless design of our glass-covered patio verandas makes them the perfect choice to enhance your home and garden. Their high-quality construction provides a solid, stable base for future additions. Whatever you choose, you know you'll be choosing a product that was built to last.
Choose from any of our three veranda styles to give your home a brand new look.
Terrazza Pure
The Terrazza pure is a beautiful addition to any home, patio or conservatory. This roof is available in clear, stained and frosted glass and is designed to sit flush with the wall.
Basically, if you want the benefits of added light, shade, insulation and security but don't have enough space for a conservatory, or as a standalone room, the 3-glass roof is ideal.
Terrazza Sempra
The Terrazza Sempra features a polycarbonate glazed roof with a standing seam finish. Thick box beam details are included in the roof so you don't ever have to worry about them rusting.
The glass panels are attached with silicone to prevent water leakage. There are no visible seams within the glass or where the glass joins the aluminium frame.
Through its thick, tempered glass ceiling and walls, you'll enjoy an abundance of natural light. The light reflecting from the skylight creates an almost floating feeling above you as though you're outside even when you're inside.
Terrazza Originale
Terrazza Originale can be customised over a wide range of classic to contemporary colours, giving you the freedom to match your home, yourself or even your mood.
Why Choose the Glassroom Company for Your Elegant Patio Veranda Need in South East England?
We are detailed with every glass-covered patio veranda design and client project.
A complete service from design to installation.
At the Glassroom Company, we work with you from start to finish to create your dream outdoor area.
We'll be there to make sure that the job is done right, from the actual installation of the glass and anodized aluminium structure through the interior design and selection of finishes that you choose.
Professional service with only high-quality products at great prices.
We are committed to offering you the best products, prices and service. When ordering from us, you are guaranteed professional, friendly service and high-quality, durable products at great prices.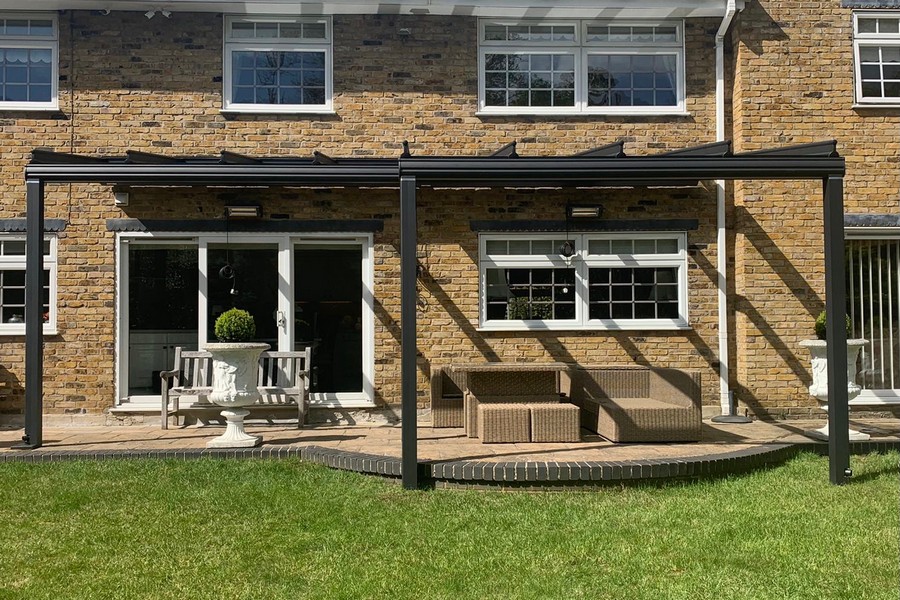 Industry reputation and credibility
Our experience and expertise in the glass-covered patio veranda industry have been built on strong customer service principles.
When you call the Glassroom Company, you'll speak with knowledgeable representatives that have years of experience helping clients like you successfully achieve their goals and dreams for outdoor living areas.
We're committed to providing our customers with peace of mind as they transition from one season into another – from summer to winter and fall into spring.
Our clients can rely on us to provide unmatched workmanship, exceptional customer service, and a professional environment that everyone is familiar with.
A wide variety of glass-covered patio veranda choices with product examples
Our glass-covered patio veranda comes in many materials, styles and sizes to match your specific tastes. We have a wide variety of choices for you to choose from – available in a variety of colours and combinations.
No matter which glass-covered patio veranda you choose, it will bring years of enjoyment with its easy care and maintenance.
Expert and certified custom in-house installation team
We are a licensed, certified, and insured company that has been providing glass-covered patio veranda glass and aluminium structures to the entire region of South East England for the past 15 Years.
We service customers in Surrey, Kent, East Sussex, West Sussex, Hampshire, Berkshire, Greater London and all other surrounding areas. Each project is as important to us as it is to each client who orders with us.
Excellent customer support and after-installation care
Although there are companies that install glass-covered patio verandas at cheaper prices, most of them have insufficient design experience, inferior products and a poor customer support culture. We at the Glass Room Company are a premium quality company offering long-lasting products, built to high specifications.
We also provide top-notch customer and after-sales service because we believe that our relationship with our customers go beyond the veranda they buy.
100% customer satisfaction with peace of mind
We know that for you, your home is a source of joy and pride. So when it comes to transforming your dream into reality, it's important to choose the right company. With more than 15 Years of experience, we're the team to make your vision a reality.
Known all over the southeast for delivering customer satisfaction, we are your best resource when planning to give your patio an upgrade with a veranda.
Contact us today for a FREE quotation on your next glass-covered patio veranda project!
Request a Quote
The Glassroom Company specialises in the design and installation of custom patios and verandas. We utilise a wide variety of materials including glass, powder-coated aluminium, and metal fixtures and fittings to transform any outdoor area into a comfortable, charming and elegant extension of your home.
The Glassroom Company can build unique, upscale patio structures, verandas, and pool rooms made of glass – the ultimate durable and state-of-the-art outdoor living.
Since inception, we have been working hard to establish ourselves as a trustworthy source for quality products that are crafted with care and delivered with integrity. We design, install and fix different glass-covered patio veranda styles – all available to you in a variety of materials.
FAQs
How long will it take to deliver and install my glass-covered patio veranda?
After you've placed an order with us for your glass-covered patio veranda kit, we promise to deliver in 4-6 weeks. This includes the delivery and installation of your new glass-covered patio veranda by our expert team of craftsmen.
What maintenance is required for a glass-covered patio veranda?
The maintenance required to maintain a glass-covered patio veranda varies greatly. It's important to clean the patio every now and then and apply some sealant. This will keep the patio or veranda in a good condition. This will also help to protect it from harsh weather conditions and make certain it won't deteriorate too much.
What's the cost of a glass-covered patio veranda from the Glassroom Company?
It's difficult to give accurate pricing because of the many factors involved — square footage, height, visual privacy, whether you want an awning, etc. Some of the options would cost more than the average installation cost, which is why we provide the best price guarantee on our work and welcome you to call us for a site survey and a quote.
How long will a glass-covered patio veranda from the Glassroom Company last?
As with any product, improper use or exposure to the elements may shorten its life. To get the most out of yours, follow our detailed care instructions and apply protectants regularly. Your glass-covered patio veranda should last for many years. A well-maintained glass-covered patio veranda can be a great addition to your home and lifestyle.
What sizes of glass-covered patio verandas are available?
There are many different sizes of glass-covered patio verandas available. The sizes available are 3ft, 5ft6, 6ft and 8ft; all the way up to 12ft for one or two doors. We can also design custom sizes to match your requirements.
Will a glass-covered patio veranda add value to my home?
Yes, a glass-covered patio veranda can add a significant amount of value to your home, depending on the size and features. Also, make sure to have your glass-covered patio veranda professionally installed by a professional company such as the Glassroom Company.
What is the difference between a porch and a glass-covered patio veranda?
A porch is a space that is attached to the exterior of a house or building and set at ground level. A glass-covered patio veranda, however, is a usually enclosed and elevated outdoor space attached to the home.
What is the point of a glass-covered patio veranda?
A glass-covered patio veranda is a beautiful outdoor room with windows, a deck, and a solid roof. The glass-covered patio veranda will create shade in the summertime while sheltering you from the rain in the spring and fall. The glass-covered patio veranda creates another living space for your family to enjoy. It is a great way to expand living space. Use them for entertaining friends, dining or just relaxing.
Do I need planning permission for a glass-covered patio veranda in the UK?
No, planning permission is not required for the installation of a glass-covered patio veranda in the UK. There are some restrictions that may apply under the General Permitted Development Order 1995 (as amended) for the installation of a Patio in the front and rear garden of your property. You should check with your local council before work commences to ensure that your veranda falls within your permitted development rights or that there are no other restrictions that will prevent you from building your own veranda, patio or terrace.