What is Glass Veranda Patio Cover?
A patio cover is a customised, lightweight roof system that provides shade and protection from the weather for your patio. It's a smart choice for any homeowner who wants to create an outdoor space without the hassle of building a new structure.
A veranda patio cover is a great way to enjoy your outdoor space throughout the year. They instantly create a sun-free and sheltered space and are available in both open and solid roof types. Discuss your preferred option with us now by calling 0800 009 6245.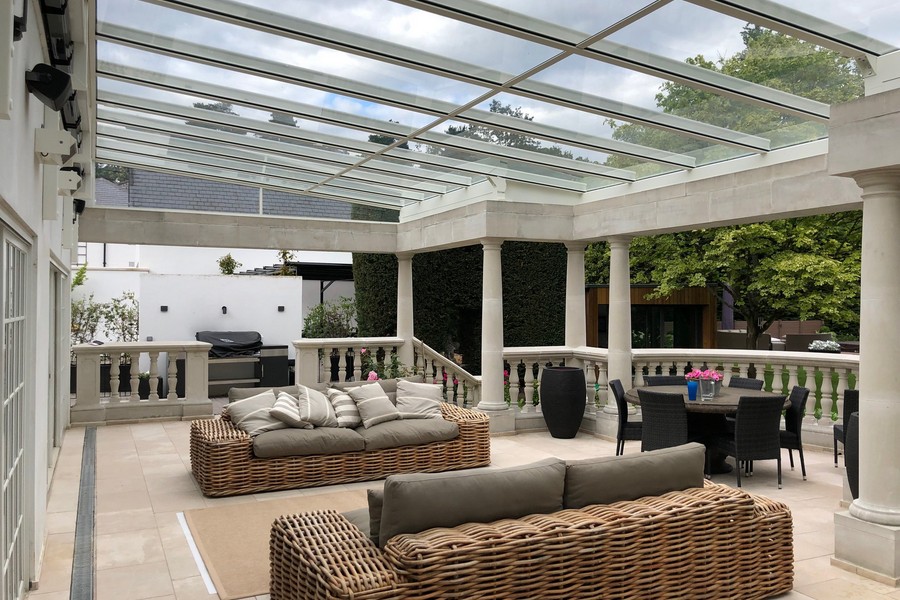 Delivering the exceptional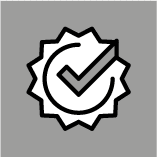 Outstanding service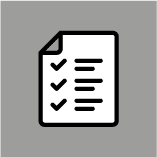 10 Year Guarantee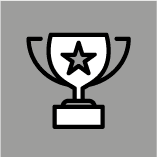 European Based Products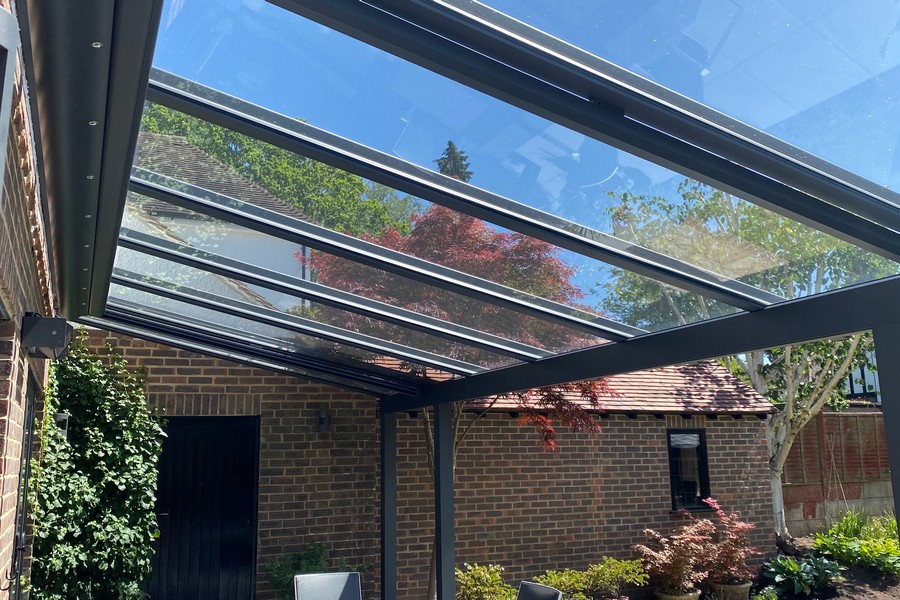 What is our Glass Veranda Patio Cover Made from?
The Glass Room Company quality patio covers are made of durable powder coated aluminum frames and your choice of roofing system in glass or fabric. Our powder coated aluminum is guaranteed never to rust and will not rot, warp or split like its wooden counterparts.
What Makes Our Glass Veranda Patio Cover different?
We engineer patio covers to not only look beautiful, but also to allow for favourable sun and shade conditions, natural ventilation and easy year-round operation. Many of our team members have been here for over 15 years and we take great pride in the quality and workmanship that goes into every patio cover. Below are what makes us stand out from the crowd.
Durable and rigid powder coated aluminium structure
Some patio cover designs are flimsy and collapse when heavy winds hit them. Others are made from steel that rusts, bends over time and is expensive to ship. Our aluminum structure is designed to handle strong winds and last for many years. Our durable and rigid aluminum frames and uprights are powder coated in a wide variety of different colours. This can be used for almost any type of veranda.
Fully integrated rain gutters and gutter heads
Our glass veranda patio covers are not only great shelter from the sun and rain, but they also include built-in guttering on both sides of the cover so no extra mess or clutter to deal with.
Multiple colour options
Our veranda patio cover systems can be built with several unique and different colours. We offer many colour choices to select from that will suit any home's style or decoration.
Unique in appearance and design, not only will our patio covers add style to any veranda, it also means you won't have to re-paint the side of the house, add landscape features or re-landscape the entire front, side or back garden.
10-year warranty on frames
We are The Glass Room Company. We are known for our high-quality products and stand behind them. That's why your patio cover comes with a 10-year warranty against frame defects. We have an extensive fabric selection and can build custom sizes to fit your space.
The Glass Room Company can transform your outdoor living space with high-quality patio cover systems. Patio covers are a great way to add extra living space to your home, keep your family comfortable in the outdoors, or turn your patio into a grand entertaining area.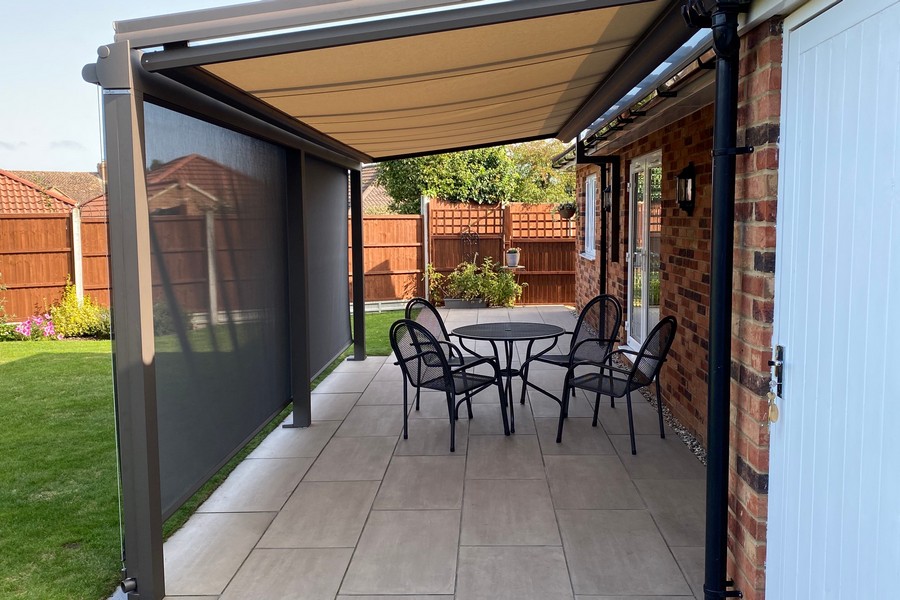 What are the Benefits of Glass Veranda Patio Cover?
A patio cover is an excellent addition to every outdoor living area. If you enjoy spending time in your garden, a patio cover could be the ideal addition to your next home improvement project.
Not only does a patio cover look fine, but it also has a number of other advantages that make it a worthy purchase for homeowners.
Makes your outdoor living space look better
No matter what kind of outdoor living space you have, a patio cover provides an upscale barrier that always looks tidy. Landscaping is fine, but sometimes all your outdoor living space needs to get a fresh look for the season is a stylish patio cover.
Also, the elements can do damage to your patio furniture and belongings, over time – and even peel up your decking. But when you take advantage of our professional installation, you'll be able to enjoy your veranda for longer with an extra layer of protection from the elements!
Offers protection from sunlight
Our veranda patio cover is a perfect summer addition to your home. It provides desired shade and protection against UV rays while still allowing for adequate circulation of fresh air. With many different patio cover designs and accessories available with us, we're sure you'll find what you need to cover your outdoor space from sun or rain.
Keeps your furniture dry from rain and snow
Does your outdoor living furniture get wet and mouldy in inclement weather? glass veranda patio covers are a must-have to reduce damage caused by the elements. You can relax in comfort and protect your furniture from sun, rain, and snow. With our patio covers, you'll never have to worry about your outdoor space again.
Lets you have a space for traditional activities
Having a place to chat and hang out with family and friends is more important than you might think. The veranda deck is the perfect solution for catching up with loved ones or hosting a get-together. With a veranda deck, you will have all the features of a traditional patio—like storage, bench seating, overhead lighting and more.
Even traditional activities such as barbecues, relaxation, and reading can be done on your veranda.
Adds value to your home
A patio cover is a long-lasting investment and can significantly increase the value of your home.
They are expected to withstand a variety of environmental conditions and are constructed in such a way that permanent damage is avoided. Even wooden covers are constructed to a high standard with high-quality materials to prevent decay, cracking, and warping over time, much less our high-quality, powder-coated aluminium frames.
Expect an impressive return on investment and a lifespan that lasts years, if not decades, since a patio cover usually has an impressively long lifetime – it would be a wonderful addition to your front. side or back garden for several years to come.
Adding a veranda patio cover is one of the easiest, no-fuss ways to make your home more attractive and inviting. It's an attractive, classic look that adds value and protection to your home.
Why not contact us today for a free site survey? Request a call back by dialling 0800 009 6245 now!l
Why Hire the Glass Room Company for Your Glass Veranda Patio Covers Installations
Selecting an experienced and reliable company is the first step to ensuring your veranda patio cover installations are done to the highest standards with the best materials available.
A veranda or patio is not just another building. It's the extension of your living space and therefore worthy of attention to detail and craftsmanship, which we pride ourselves on. We take time to listen to your needs and requirements so that we can nail down the right design for your patio cover to meet your needs and budget. We are a family-owned company that is highly specialised in outdoor living projects like veranda and patio covers. All our work is well organised. We have the right man at the right place and at the right time. Our staff are all skilled, experienced and highly qualified, ready to serve you with excellent services.
With over 15 years of experience performing installations on hundreds of properties in the London area, as well as the southeast region, we are the experts in superior installations. We use top-quality products and the best craftsmanship to make your veranda top a beautiful addition to your home that will last. We have different options for veranda so no matter what your style is, we have a unique cover solution that will make sure your veranda looks great for years to come. Book a free site survey with us today!
How Much Does Our Veranda Patio Cover Cost?
Our glass veranda patio covers are custom-made to meet the exact requirements of each owner. A certified surveyor will visit your area to measure and discuss your requirements so we can provide you with a quote that is tailored to you specifically.
This survey is completely free, and it will give our team the details they need to create a no-obligation quote and create a template for your project.
What Our Customers are Saying About Our Services
"I wanted to thank you for your assistance in getting our patio cover installed. Your service was excellent and the men who came to do the installation were great. They worked together very well, were courteous and gave us a lot of good information about how we could protect our new cover from high winds. We think it is a super looking addition to our house! Thank you again for your help."_James Newman
"The patio cover that we purchased has been an excellent addition to our home. It improves the look of the house, makes it more usable and extends its lifetime. I can't imagine anyone not wanting a The Glass Room Company Veranda Patio Cover upgrade for their home. Thanks for all you did!"_Jane
"I wanted to thank you for all your help in covering my veranda with the patio cover. It is a perfect fit and looks great on my back porch. I will definitely be recommending your product and service to everyone I know, and I wish you and your company continued success."_Steve
"The Glass Room Company veranda patio covers team did a wonderful job. They were on time, courteous and efficient. We are very pleased with the finished product and would highly recommend them to anyone else considering a patio cover."_Anderson
"I just wanted to thank you and your staff for the great customer service both on the phone and in your showroom. Everyone was very knowledgeable on all the different brands and helped us decide which would be best for our space. The installation went smoothly and the gentlemen were very friendly, courteous and professional. I will definitely recommend your company! Thanks again!"_Theresa
Ready to give your home a new look?
A quality glass veranda patio cover is the perfect choice for your home if you plan to enjoy the outdoors on a regular basis or even if you just want to make the most of your outdoor space. At The Glass Room Company, we have the experience and resources you need to ensure that your new patio cover will blend perfectly with your home while also providing years of enjoyment.
The Glass Room Company patio covers are available in numerous different designs to suit your taste. Whether you prefer structural or decorative glass panels, our company can create a bespoke design that seamlessly integrates into the aesthetics of your home. Made to measure, we pride ourselves on our exceptional customer service and superior quality work. Request a free site survey today. Call 0800 009 6245 to speak to one of our experts.
FAQs
Do patio covers increase home value?
Absolutely. If you're like most people, you want a home that fits your lifestyle and reflects your flare. Patio covers put the finishing touch on that look by providing protection from the elements while offering an increase in home market value, in the long run.
How high should a patio cover be?
There are lots of things to consider when designing a patio cover – how much sun will it get? How much rain exposure will it receive? How closely can you space the columns between a fire pit and an outdoor dining area? A patio cover must be high enough to protect a seated person's head and shoulders from rain. The greater the height of your room, the higher you will have to raise your patio roofline in order to meet this requirement.
Do you need planning permission for a veranda patio cover?
An unauthorised building project is an offence. You may need planning permission for a veranda patio cover if it would affect your neighbours' views or sunlight. However, you may not need permission if your extension (or veranda) fall under permitted building rights. Please contact your local council for more information. The Glass Room Company can guide you through all the processes.
Are aluminum patio covers good?
Yes! They're strong, durable, long lasting and won't rust. Aluminum is a popular patio cover material because it won't rust, flake or peel like fiberglass or vinyl and you don't have to worry about the different types of metals used in steel and iron.