What is an overhang glass veranda
Verandas are a great way to increase your living space and add style to any home. But what if you want that veranda, but don't have too much space to spare? The solution is an overhang glass veranda! An overhang glass veranda is a type of porch or patio extension that hangs from the side of your house, giving you all the benefits of a traditional veranda without sacrificing precious square footage.
The premium yet stylish structure is normally installed to cover the back or side door area, but can be installed over the front door as well. There are many different varieties of veranda, and with the modern construction techniques used by our manufacturers, The Glass Room Company can supply and install an overhang veranda that will be both comfortable to use and strong enough to survive in all types of weather. Why not give us a call today on 0800 009 6245 to plan your overhang veranda project?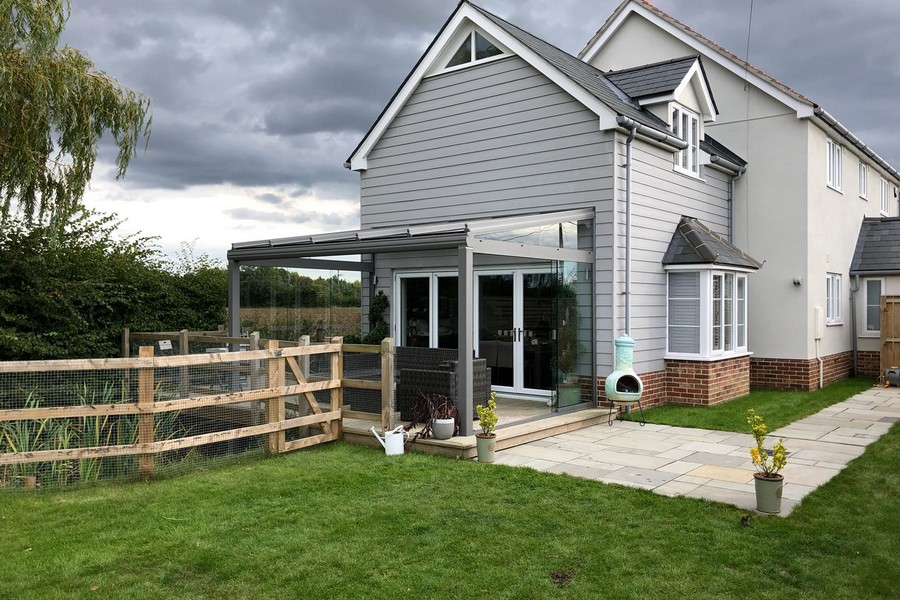 Delivering the exceptional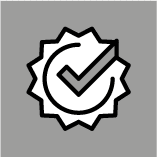 Outstanding service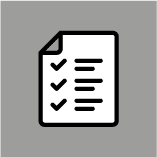 10 Year Guarantee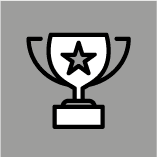 European Based Products
What makes our overhang glass veranda different?
If you are thinking of investing in an overhang glass veranda, it is normal to want to know why you should go with our products. High-grade aluminium frames with an attractive powder coated finish, the finest quality tempered UV stabilised glass, and patented unique designs make our range one of the most outstanding on the market. The Glass Room Company is dedicated to delivering products and designs that maintain an elite standard of quality. Below are some features of our veranda designs:
Elegant design and seamless looks
Our overhang glass verandas are elegantly designed to boost the aesthetic value of your property without compromising on function. They boast a sleek, seamless look and make the most of your available space.
Integrated rain gutter system
When you have a large overhang, the last thing you want is messy drips getting into your living space or causing muddy puddles. Our integrated drainage system means that when it rains, water discreetly channels through a hidden system and into the main drainage of your property.
Modular construction
Our veranda's design allows you to customise it as much as you want so you can get the best of your outdoor space. The modular design allows for quick installation and expansion as your space needs change. If you need more room for entertaining, simply add additional units right next to each other.
LED lighting for a beautiful ambiance
Enjoy the view and let your imagination run wild with all that our overhang glass verandas can offer. LED lighting adds a touch of class while providing much needed illumination. The lights make your veranda area a stunning sight at night.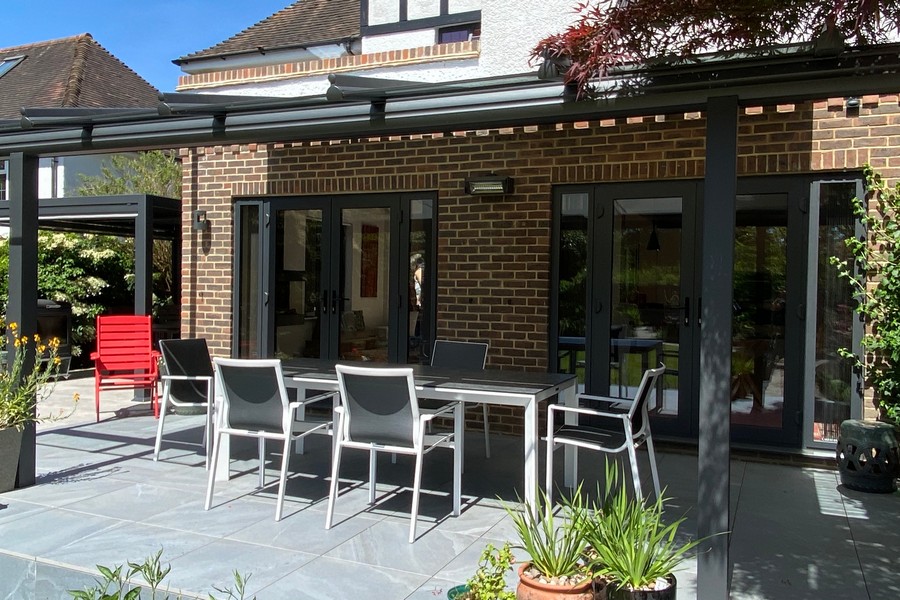 Powder coated anodised aluminum frames
Built to be long-lasting, useful, and visually appealing, our overhang glass verandas provide convenience, comfort, and all-weather protection that will last for years. Special treatment of the anodised aluminum framing and finishing with powder coated finish gives a new look and makes it immune to the effect of air and water. Do you prefer a more customised option? Contact us now on 0800 009 6245 so we can discuss your specific needs.
Different types of overhang glass veranda
Modern overhang glass verandas are designed in many different styles. There are three types of overhangs – projecting, recessed and cantilevered.
Projecting overhang
A projecting overhang is a glass veranda that projects out from the facade of a building. Projecting overhangs are recommended on exterior walls as an aesthetic and functional addition to any residential or commercial building. They can provide shade, shelter from rain and from direct sunlight.
Recessed overhang
Recessed overhang is basically an extension of the roof that juts out from the front side of your home and becomes what's known as your front porch. This type of overhang helps to soften the exterior facade of your home, and offers a degree of protection from direct sunlight.
Cantilevered overhang
Cantilevered or track overhangs are fixed to the building structure and cantilever out from the wall. These types of verandas are usually used for balconies or other outside areas where there is a need to incorporate more space for entertaining or relaxation.
What are the benefits of overhang glass verandas
If you are looking to make the most of your outdoor living space, an overhang veranda is a great way to extend the area you use outside. Whether you enjoy entertaining friends and family or just relaxing on your own, there are many benefits to having an overhang veranda. These include;
Improves the aesthetics of your property
Overhang glass veranda is one of the most popular types of verandas, and for good reason; it will almost always improve the aesthetics of your property. The appeal of an overhang glass veranda is nearly universal: the majority of buyers prefer it to other alternatives.
Extends your living space
An overhang glass veranda extends your living space because it increases the accessible outside area of your home. The overhang protects you from running out of space, provides an outdoor view and allows you to enjoy nature in a way that is only possible with roof glass.
Serves as a roof over your patio
Is your patio lacking a roof? Or do you just want to transform it into an extension of your living space? Whatever your reason, Overhang Glass Veranda is the perfect solution. While serving as a roof over your patio, an overhang glass veranda offers privacy and shade, making it ideal for dining or entertaining guests.
Provides protection from weather
An Overhang Glass Veranda will keep you dry and cosy while still enjoying the fresh outdoors. The tempered glass roof protects people and furnishings from stinging insects while allowing plenty of sunlight to enter. The aluminum frame comes in a choice of finishes that complement any outdoor decor.
It adds value to your property
An overhang glass veranda is a great addition to any home. It can add value to your property, provide shade and shelter from the rain and increase the aesthetic appeal of your property.
Low maintenance
No leaks. No drooping. No rust. And no painting. Overhang glass verandas are ideal for coastal homes or anywhere salt water and sand can cause damage to your property. They're virtually maintenance free.
Safe and secure
The Glass Room Company overhang glass verandas are designed to be safe and secure. We have sought expert opinion and evaluated every step in the installation process to create a product that meets rigorous safety standards. Need more information? Send an email using the form below to discuss your needs.
Why should I buy from The Glass Room Company?
Naturally, there are a variety of reasons you should outsource your veranda installation to us, but the biggest boils down to the confident, expert service we are known for.
Our installers come equipped with the right training and tools to ensure your veranda provides years of enjoyment.
The Glass Room Company overhang glass verandas have been designed to give you all of the comfort you need in an area where you can relax, unwind and enjoy your garden even more.
Replace your existing veranda with one of our stunning glass verandas and see how much more enjoyable life becomes.
We understand that buying a veranda is an important investment for you, so we go above and beyond on every job.
At The Glass Room Company, we are committed to delivering exceptional service and high quality products at a great price.
This has helped us gain the trust of hundreds of satisfied customers who have placed repeat and referred orders with us to date. It's made us among the best providers of glass verandas installation throughout London and the southeast.
We're committed to delivering the best selection of stylish overhang glass veranda for you at the right price. And because the customer experience is so important to us, we've put together pages of product knowledge to help you decide what is right for you while keeping things organised.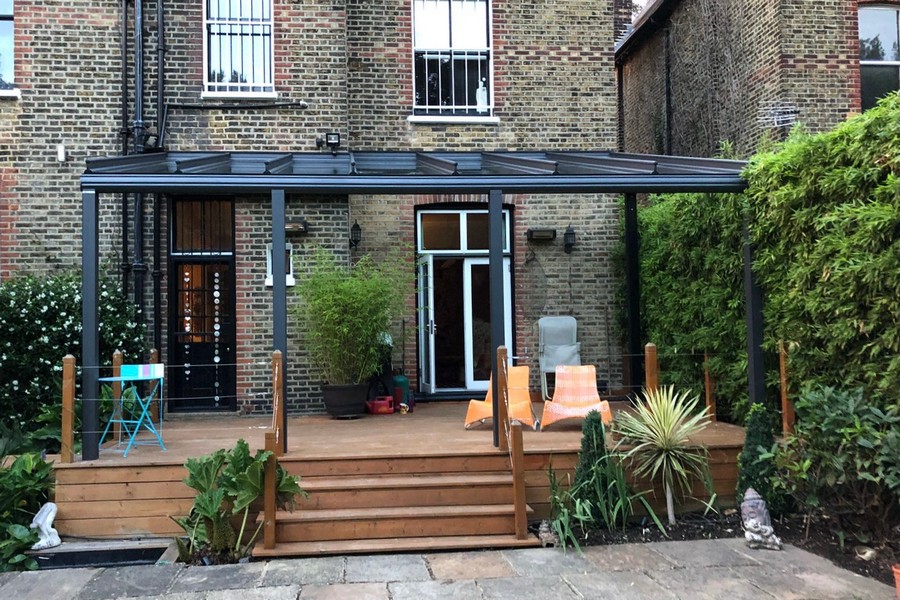 How much is our overhang glass veranda?
Each overhang glass veranda we build is made specially for the customer. This is why fixing a standard price is difficult. We have a certified surveyor who will come to your home to measure and assess your requirements in order to create a quote that is exclusive to you.
The survey is completely free and will allow our team to gather the information they need to create a template and provide a quote. Give us a call today on 0800 009 6245.
Our customers testimonials
"We recently had a The Glass Room Company overhang glass installed on the north side of our house and it has really changed the look of our place. When we got the quote from them, it seemed like there was no brainer to get this done. We can't wait to get them back to do another project for us!"_Kate
"I am extremely happy with the final product and very impressed with the customer service that The Glass Room Company provides. Not only did they provide an exceptional quality product, but the installers were extremely friendly, professional and quick. I would recommend The Glass Room Company to anyone looking for a great overhang veranda company!"_Happy customer
"We recently had the patio of our home enhanced with your fabulous overhang glass veranda system. At first we were hesitant about the idea but once we saw it, we knew it would look brilliant. It certainly did that and more! Now all our friends are planning to do the same to their own homes. Well done The Glass Room Company!!!"_Steve
"I can't say enough about the crew who installed our overhang glass veranda. They were professional, courteous and did a great job on our new addition!"_Anderson
"Thank you! The installation has been much appreciated and the overhang is very fine indeed. It's been put to many uses already and I'm particularly glad to be able to sit out there and read in comfort once again." – Caroline Harvey
"I want to express my extreme satisfaction with the installation of a new overhang glass veranda by your business. The premises were professionally cleaned before any work began and all employees were very welcoming. I love the look of my new glass veranda and feel it is the perfect addition to our garden! I have no complaints at all; only great praise for the work performed!"_Jamie
B. wrote: "I am so happy with the The Glass Room Company overhang glass veranda installation I purchased from you last month! It looks great and is really nice. I wasn't sure what to expect, but it was a great experience buying from your company! Thanks!"
Ready to make a purchase?
Get a free quote from The Glass Room Company today and discover the value of our overhang glass veranda installation. Why manage poor workmanship when you can use The Glass Room Company for the best value available? Call us now on 0800 009 6245!
FAQs
Are overhang glass verandas good?
Yes. Overhang glass verandas allow you to maximise your outdoor living space and still remain protected from any inclement weather.
How long does it take to install?
It takes approximately 6-12 hours to install an overhang system, depending on the sise and complexity of the space.
How long does your veranda last?
With proper maintenance, our verandas are built to last your lifetime and beyond. Their weatherproof design will not fade or erode as wood does. They are fire retardant, rot proof, termite proof and mildew proof.
What is a veranda used for?
The purpose of the veranda is to create an entertaining area located outside of the home. It can provide a covered space for outdoor living areas and has protection from the sun, wind, rain and other weather conditions.
What is the difference between balcony porch and veranda?
A balcony is an area that protrudes out from the wall, supported by brackets or a stone baluster. A porch is an enclosed platform attached to the outside of a structure. A veranda is a platform supported by columns or an overhang extended from a building.
What is the difference between balcony porch and veranda?
A balcony is an area that protrudes out from the wall, supported by brackets or a stone baluster. A porch is an enclosed platform attached to the outside of a structure. A veranda is a platform supported by columns or an overhang extended from a building.